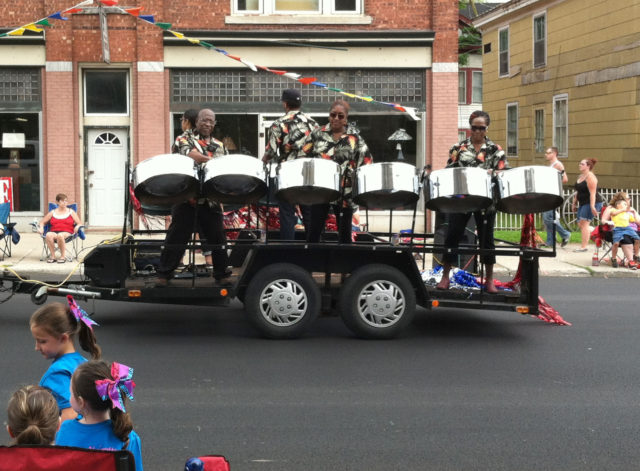 This is another poem extracted from a prose piece written for NCPR's newsletter, The Listening Post. I spent a July day in 2015 in Ogdensburg where I had a ringside seat for the Seaway Festival Parade. I was staffing an information table for Reachout of St. Lawrence County. I confess that the parade and the yummy street food cooking behind me occupied more of my attention than passing out Reachout brochures and answering questions.
A Summer Holiday
The parade amalgamates all the hootiness of which
the small town is capable — puts it all out there at once,
loud and proud. Fire engines blink, woo-woo and blat.
Marching bands don sequins, plumes and go-go boots,
a-strut with horns, drums, banners and batons.
Shriners set aside their day jobs to don fezzes,
ride tall bicycles and zoom in tiny cars. Troopers,
seven feet tall in Stetson hats, march in formation
convoyed by motorcycles. Bagpipers are in full kit;
clowns stride on stilts. Festival royals wave royally
from the back seat of a convertible. There's a bevy
of dairy princesses mounted on a hay wagon, even
a steel drum band playing "God Bless America."
Well, amen.
Every kid in town and from every town around
rummages for tossed candy, stuffs fire-engine red
hot dogs and drinks of colors not found in nature
into their mouths, showing off t-shirts expressing
attitude and novelty hats expressing lunacy.
All your friends, all your relations, all your neighbors
and all their relations are somewhere along the route,
standing in shades and sunhats, plunked down on
folding chairs or picnic blankets. After dark, fireworks
will blare out and boom above the mirror of the river.
Note: unpublished draft