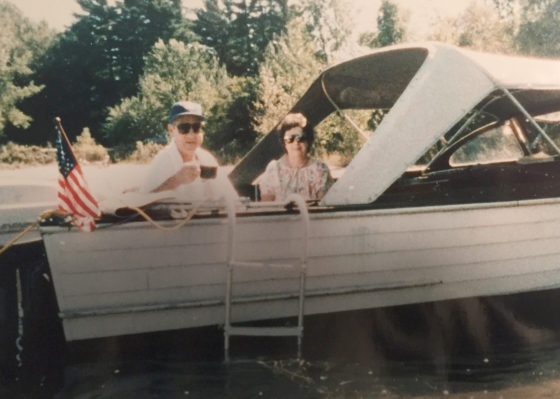 I've been kind of obsessed this spring and summer with how many sunny days have been made gorgeous by flotillas of high cumulus clouds. It is as if the overly-rosy memories of summers long past have been made manifest. Those summer memories all seem to involve being out on the river with family and friends on my father's boat.
Hobson's Choice
For years after cancer took my dad
all I could recall was his final frailty.
A pity really, because he was a hoot
and took to summer gleeful as a child.
Now I recall him in a better light
at the wheel of Hobson's Choice,
his lapstrake hull Lyman motorboat,
out in the St. Lawrence ship channel.
He's wearing a ball cap, pipe in teeth,
clip-on shades flipped up to read a
navigation chart half-unrolled upon
the dash, happy as a man can be.
The wake is straight behind, islands
dot the long stretch ahead, and
the sun sinks toward the horizon
amid puffy clouds that go on forever.
Note: unpublished draft