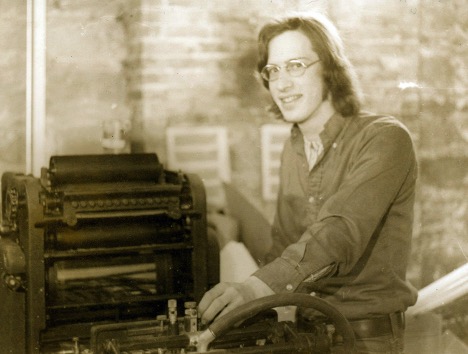 It's a natural response to gawk at disaster, smashed cars, burning houses, crime-scene tape going up by the flashing lights of police cars. As Thurgood Marshall said, "I love peace, but I adore a riot." And it's true, right up until the disaster is your own.
Getting Burned
As a child I remember watching things burn.
My father would wake us up to go and see.
There was the California Fruit Market fire
that cleared out the corner by the bridge,
and the night the Baptist Church burned
to the ground, sparks flying up in the dark
like prayers, the roaring as the steeple fell.
Fires beautiful and fires terrible – winter fires 
that left a fairyland of firehose-fed icicles,
summer fires hot on the face like midnight sun,
a brew of steam and smoke rising red in firelight.
But it all changed when what burned was mine:
a voice on the phone blew sleep from my ears,
"Get downtown. Your printshop is burning."
Since I've watched things burn from the other side,
what I recall most now are smells, burned plastic
mixed with charcoal, mildewed paper and cloth,
feet of water rank with lime leached from mortar.
Forty years later I smell it still, opening a book
saved from the debris. It will never fade completely.
The building stands, but how loath I am to enter.