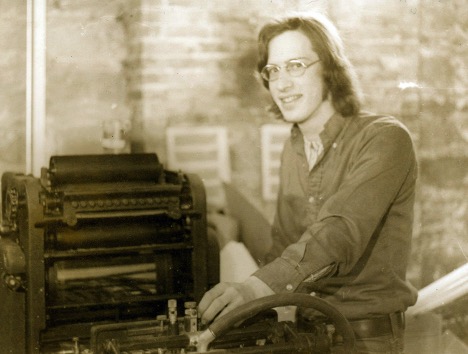 It's a natural response to gawk at disaster, smashed cars, burning houses, crime-scene tape going up by the flashing lights of police cars. As Thurgood Marshall said, "I love peace, but I adore a riot." And it's true, right up until the disaster is your own.
Getting Burned
I remember watching things burn.
Dad would wake us up to go see.
The California Fruit Market fire 
cleared out the corner by the bridge,
then the Baptist Church burned ,
sparks flying up like prayers,
the roaring as the steeple fell.
Fires beautiful and fires terrible –
winter fires, a fairyland of icicles,
summer fires hot on the face like
midnight sun, red firelit steam
and smoke rising. But then what
burned was mine: the phone said,
"Get to town. The printshop's on fire."
Having seen fire from the other side,
what I recall are smells, burned plastic,
charcoal, mildewed paper and cloth,
water rank with leached mortar lime.
I smell it still, opening a book saved
from the debris. It will never fade.
How loath I am to go back inside.
Note: unpublished draft