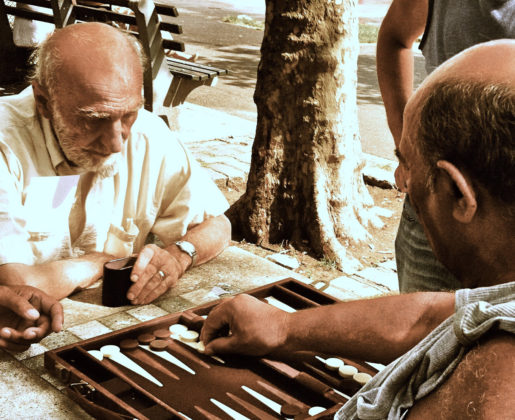 I added to my old man skill set by learning to play backgammon this week. I have a little bit to say about the social utility of board games, but not much.
Board Games
In a far corner of the park two old men
occupy a picnic table, rolling double dice
onto the backgammon board. After long
lives of talking, they haven't much left to say.
Half what they did say got them into trouble,
hurt someone's feelings, or caused extra work.
Lesson learned. Now they mostly subvocalize,
grunting at a bad roll, muttering at the geese.
It's this way everywhere, has been for millennia
since board games came out of the Middle East.
In NYC, it's patient chess players sipping coffee.
In Miami, old Cubans smoke Cubans over dominoes.
Some go for Go, some choose checkers, some 
just watch while others play. No kibbitzing.
All that's wanted is a bit of quiet company,
an excuse to be abroad in warm sun once more.
Note: unpublished draft