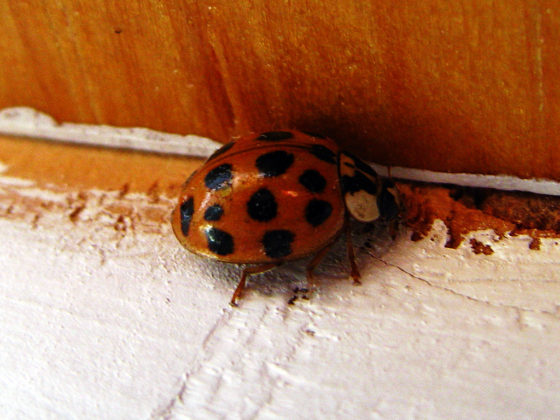 The doctrine of karma can be pretty discouraging. This may be why so many, given the choice, prefer a merciful God to a just one.
Bad Karma Sutra
Aside from doing nothing, there's nothing you can do
to avoid it. Think of all those bugs on the windshield,
the road through the marsh covered in hopping frogs.
And then there are all the inadvertent slights, the little
mean moments. Face it. Life is the reverse of a prayer
wheel, daily accruing bad karma to your account.
This is why, no matter how often you vacuum, more
Japanese lady beetles will always crawl out, landing
in the tea mug, walking on the butter dish, finding
a way down the neck of the shirt. The more you fight
them, the greater the stench. And if you ever let up,
they swarm across walls and windows like a case of DTs.
In your heart you know you deserve this, the way you
earned this pot belly through sloth, this raspy breath
through habitual greed. These aches and pains may be
the consequence of mouse traps or BB guns. If not that,
the leather in the jacket or the 10,000 chicken dinners.
But it will work itself out, if not in this life, maybe the next.