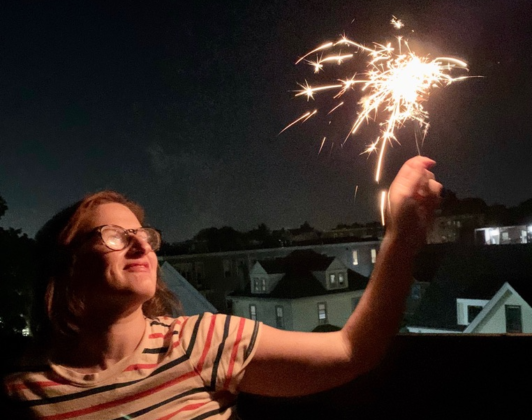 Here's another poem from an April poem-a-day challenge, 2010, maybe. Our daughter Elena was grown and flown, building a life for herself in the Boston area.
Parenting
Hanging out in your old room 
propped up on your pillows
staring at the same low ceiling
that occupied your gaze while 
you plotted how to deal with the
Gang of Two–impossible Mom,
infuriating Dad– I get it.
Two-to-one odds called for
powerful measures. And I'll admit—
it's not as if we weren't in need 
of a little home improvement.
But now that we have had a hand in
shaping you and you have had a whack
at shaping us, I like to think we're all a little
rounder 'round the edges–if not totally
tickety-boo, safe at least to be let out loose.

That's the deal, I guess, the way it's all
supposed to work out. You've gone far
and long, but still are stamped on the bones
of our lives. We're way back home but
still appear behind you sometimes
when you look in the bathroom mirror.
And here's how I know this: when I look
in the bathroom mirror, I still see mine.