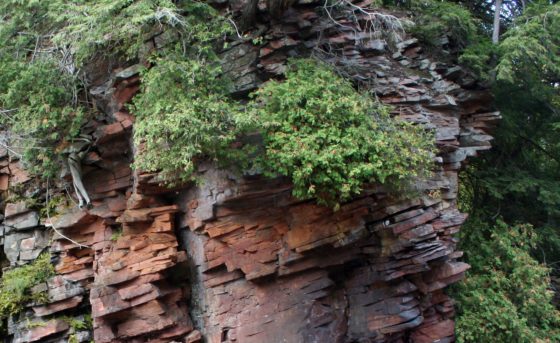 When I was young, there were still a few quarry-trained masons working with Potsdam sandstone. As young men they rode the narrow-gauge rail line from the quarry five miles downstream to the stone yard. Memories fade out over time, which may explain the desire to build things in stone in the first place.
The Stones of the Village
This was once the shoreline of the Cambrian Sea, 
so far back in time the bedrock holds no visible fossils.
Ancient dunes immobilized by moss, grass and pines
are underlaid by thick layers of Potsdam sandstone.
It was quarried for building stone from the time
of white settlement until the 1930s, much of it from
the southeast corner of the small family dairy farm
of which our house was once the farmhouse.
The stone was used everywhere for everything down
In the village: sidewalks, foundations, hitching posts
mounting blocks, tombstones, upscale homes, churches,
and civic buildings from the town hall to the town jail.
And it got around, too. You can see bits of it in Ottawa
accenting the buildings of Parliament. And the county 
courthouse, in an obvious political compromise, was built
half from sandstone and half from Gouverneur marble.
It's everywhere still around my house–the sidewalks,
the flower beds, the foundation, the wellhead patio,
as well as loose stone "quarried" from the long-vanished
barn foundation. Can't dig a hole without finding more.
Fresh cut, it's the exact color of salmon; oxidized 
by coal smoke and acid rain it settles into a rusty red
mixed with gray and black. There will be no more of it;
the old quarries were dynamited for ornamental gravel.
Or they were sunk beneath the hydro reservoirs swelling
the Raquette River every couple of miles from the foothills
on down to the St. Lawrence. Now every scrap of the stone
is builder's gold. We miss the past once we've done it in.