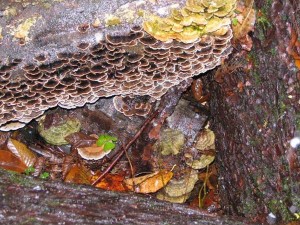 At first glance, the North Country does not look its best in November. For those who do not fly with the geese, it means looking a little harder to find the sustaining beauty that rewards any kind of weather. After so grandiose an autumn display, it's easy to become discouraged; after long bright evenings, sunset comes too soon. I get it – bigly. There is the weather in the head, and the weather of the world. But wait, look a little closer.
A change in the weather

Gray sky today, and the trees a darker gray
where rain has stripped the prayer flag
leaves. It's November now; the grand view
is gone, except these snow geese shipping
off south, fleeing flurries from the north.

Look no more up to the hills, up to the crowns,
across the still waters. October is for heights;
November is for near at hand. October is all
distances; November is in detail – orange fungus
on a stump, a tawny tamarack amid dark cedars.

The woods will drip all day, the trail slick
with mud and leaf duff. Only the understory
of saplings holds autumn's shreds – little
candles of lemon, orange and russet glow
a brave resistance to the sudden evening.

With night and snow the eye turns closer still –
going no further than the porch light's beam,
or the pages of a book, bright peppers on the
cutting board. And finally, inward altogether,
as dreams swim like fish beneath thin ice.