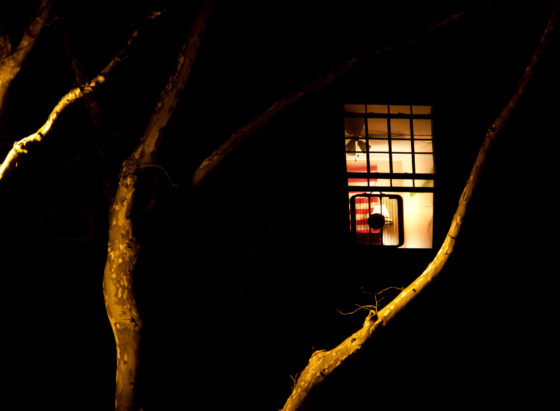 While I have sufficient opinions on the management of every aspect of life, I'm afraid I will never get the opportunity to run the world according to my designs because I am always discombobulated by the coming of morning. While I'm still trying to find my glasses and put on my pants, others have already grasped the reins of power.
Light in Other Windows
Sleepless again, I look for light in other
windows. Who shares my waking —
tapping at a keyboard, reading late
on a lonely bed, or pacing a cold floor?
What might another night hold? Each
inhabits a different village from each
when everyone else lies deep asleep.
The grocer remembers a woman's scent;
a vet wakes up from heavy shelling;
a pregnant woman rubs her back.
For me, aging, I sleep little and lightly
as if saving up for my eternal rest.
We're a fellowship of sorts — night owls —
but more in the mind than in company.
They sleep best who lack imagination,
rise early, clear-headed, and set to work.
Night owls waken one eye at a time, stagger
up to brew coffee, then take it back to bed,
browse through news, or read some mystery.
They may be found in PJs long past noon.
It's un-American, socialist even — no damn
way to run a country. But since when
were night owls ever given run of the damn
country? That's right, bucko. Never.
Note: unpublished draft